Head Instructor
Danny Jaajaa
Danny Jaajaa began training in Kyokushin Karate in 1989 under the instruction of Shihan Nik Cujic (Branch Chief, 7th Dan) and Sensei Joy Cujic (4th Dan).
At the age of 17, he achieved his Shodan (1st Dan Black belt), and was graded to Nidan in 2005 and Sandan in 2012.
Danny regularly attends seminars and conferences, both locally and internationally, and is a highly active member in the local Kyokushin Organisation in Australia. His ongoing commitment and contribution includes helping in the running of National Tournaments, and instructing at and assisting with training camps, seminars and gradings.
Danny has refined his technique as both a student and instructor, and his life's dream is to pass on his knowledge to his students and empower them to make a difference in their lives and in the lives of others.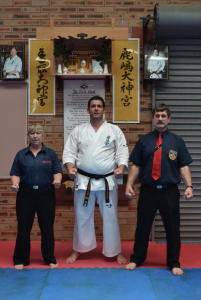 About Our Facility
Located in the heart of Menai, Kyokushin Karate Menai was established in 2015, with the aim of instilling discipline, tradition and excellence in all its students. It has quickly grown to become one of the largest and most highly respected Martial Arts schools in the area.
Kyokushin Karate Menai offers classes for all ages and fitness levels, including: