Rehabilitation Injury Management (Aus) Pty Ltd
Director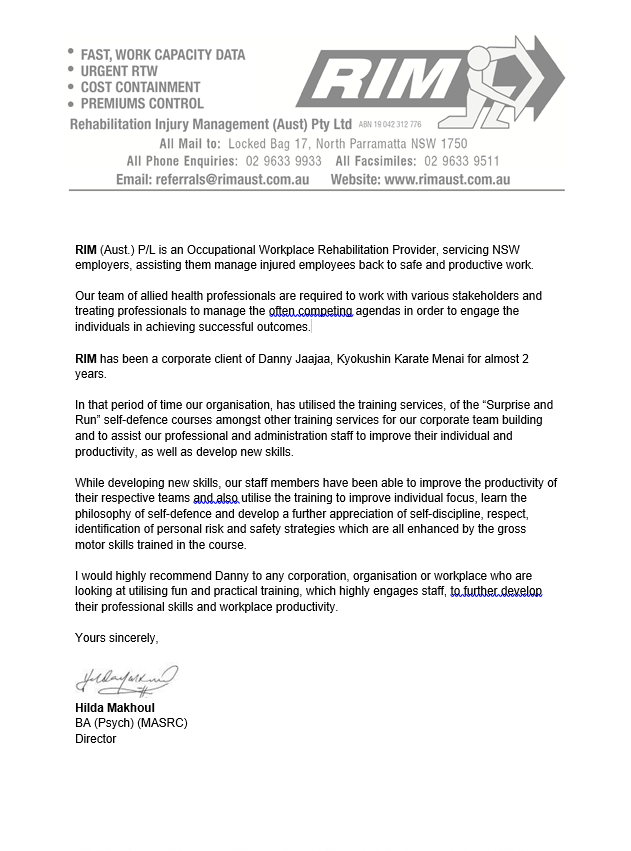 Lucas Heights Community School
Teacher
"My student's thoroughly enjoyed their 6 week self defense program run by Danny Jaajaa. It is obvious Danny has a real passion for what he is doing and he engaged our students in a fun, informative, hands on, professional program. The program not only provided our student's with the practical skills to defend and protect themselves but they were constantly reminded of the harsh reality of incidence rates of crime and assault and stories of victims in their local area. My student's completed the program with a heightened awareness and increased confidence to defend themselves and escape a variety of potentially dangerous situations"
Traders In Purple
Director
"The entire office participated in the corporate Surprise & Run self defense course  which worked wonders for not only self defense but a great team building exercise.
The boxing bootcamp from a corporate targeted gross motor skills and was extremely beneficial for discipline practices.
The workforce found Danny and his team amazing, he is forever encouraging, caring and explains with ease the process required throughout the session.
My personal experience was more than initially expected with the boxing boot camp as it was a truest dynamic experience incorporated a fair workload however instilled a large level of discipline and respect.
Could not of asked for a better overall experience.
Thanks again Danny"